Vinyl Siding Work Sheet 257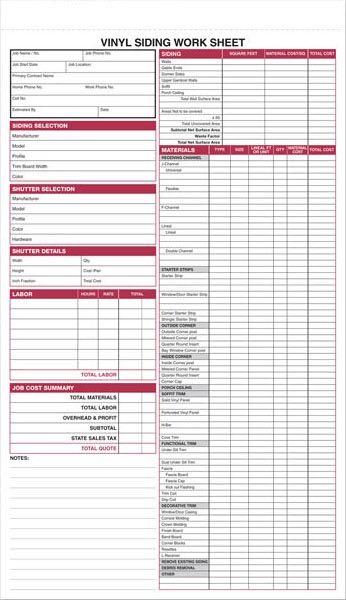 Great for creating fast, accurate estimates! Handy preprinted areas simplify writeups. Front of sheet contains areas to detail siding and shutter types. Lots of room to detail materials used in the installation/removal process. Diagrams on back of sheet cover the most popular types of siding to help you quickly write up an estimate. Detailed description areas ensure quick writeups and accurate estimates.


8.5 x 14 detached
Imprint not available
Free Ground Shipping
To Order:

Choose the quantity you want and click Add To Cart.
When you've added all the forms you want to the cart then click Checkout Now in the cart overlay to complete purchase.
You will receive order confirmation and proofs via email.
Payments: We are using Paypal to process our payments. You do not need a Paypal account to purchase from us. Choose "Don't have a Paypal account" when you get to the payment page.