HVAC Service Order / Invoice 6501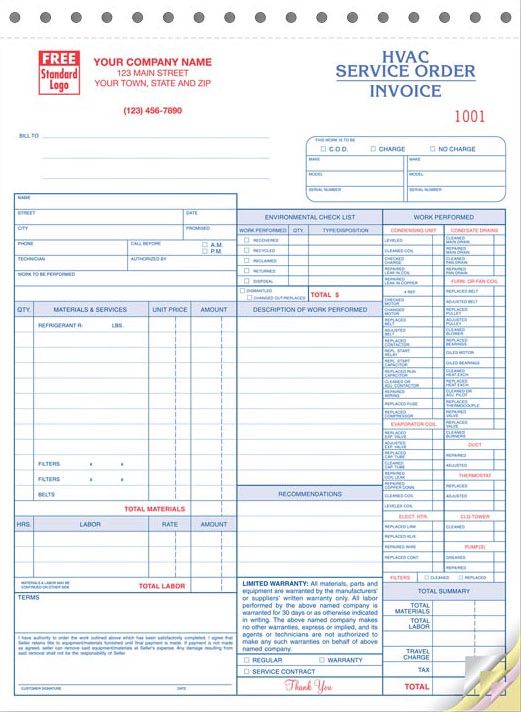 Designed for HVAC contractors! This best-selling service order form lets you write up work orders, invoice for completed jobs & keep a permanent cost record.

Multi-function HVAC business form includes a work-performed checklist that keeps you organized & provides customers with a detailed service record.


Lots of checkboxes & specialized fields let you write up every job quickly & include all the details
EPA checklist ensures you're in compliance with regulations on every job
Signature line for customer authorization prevents disputes
Available in 3 or 4 parts
Add a logo to this produce
Choose a typestyle for your company name
Product construction: Snap Sets
8.5 x 11 detached, carbonless
Paper sequence: white, canary, pink, manila tag
Imprint area: up to 5 lines
Free Ground Shipping
To Order:

Click + on left edge of window to complete and submit Imprint Submission form.
Choose the quantity you want and click Add To Cart.
When you've added all the forms you want to the cart then click Checkout Now in the cart overlay to complete purchase.
You will receive order confirmation and proofs via email.
Payments: We are using Paypal to process our payments. You do not need a Paypal account to purchase from us. Choose "Don't have a Paypal account" when you get to the payment page.